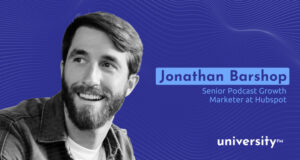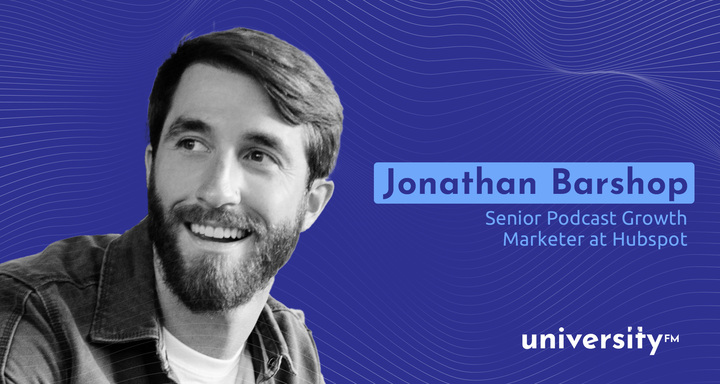 Podcast virality is difficult to achieve. However, there are steps that podcast creators can take towards gaining visibility in the world of podcasting—remaining consistent with content creation, for instance, is a good place to start.
To learn more about how podcast creators can acquire better exposure, we interviewed Jonathan Barshop, senior podcast growth marketer at Hubspot. Barshop talked about examples of viral podcasts in the industry and noted several ways that podcasters can stay consistent in the long run.
What is podcast virality to you?
I don't really think of podcasts and virality as one of the same. In fact, podcast virality is kinda of an oxymoron. I think you can have some viral moments (i.e a podcast clip gets 1M+ views on Tik Tok) but this is nearly impossible to manufacture into a repeatable process. That said, there are folks like Andrew Huberman who we can model after. He was basically a no-name as of a year and a half ago, and now he's everywhere. In short, don't focus on virality—focus on longevity.
Why and how do podcasts go viral?
Again, podcast virality is an oxymoron, but there's a lot we can learn from Andrew Huberman. First off (and most importantly) his show has a compelling hook. If you want data-heavy health & wellness advice from a hunky Stanford professor, this is the best show in the world for you.
Secondly, he was able to grow his show in such a short amount of time because he's made the rounds on dozens of the largest health & wellness/personal development podcasts out there (i.e. Joe Rogan, Rich Roll, etc.)
What tips do you have for podcast creators looking to go viral?
I recommend not trying to go viral. There are a lot of things you can do to try to manufacture a viral moment (i.e. talk about super racy things, clickbait titles, etc.), but you're pretty much selling your soul to appease the algorithm vs. making a show that you pour your soul into.

This is why I tell people to focus on longevity.

Think about it—it took Joe Rogan over a decade to reach critical mass. My buddy Chris Williamson, host of Modern Wisdom, released 550+ episodes before he was invited on Rogan and had his "viral" moment. Instead of trying to reverse engineering virality, figure out a podcast format that you'd want to create for 5+ years and try to get 1% better with every episode. Eventually, you'll be so good that folks like Rogan can't ignore you.

Another person I'd look to for inspiration is Danny Miranda — he's executing this playbook masterfully.

What role does marketing play in helping a podcast go viral?
The key marketing plays (especially for creators that don't have the budget to spend on paid ads) are:
1) Guesting on other podcasts.
2) Doing swaps with other podcasts (i.e. cross-promos, feed drops, guest swaps, etc.).
3) Leveraging your primary distribution channels (i.e. Erica Taught Me is a good example of a Tik Tok creator porting her audience to her podcast).
What are the consequences of going viral?
Virality is nearly impossible to manufacture. Maybe you'll have one Tik Tok go viral, but lightning rarely strikes twice and in my experience, a viral Tik Tok doesn't correlate to a huge bump in podcast downloads. As a result, if you're chasing virality, you're chasing your tail.

Focus on creating great content, consistently, over a long period of time. That's the most important thing.