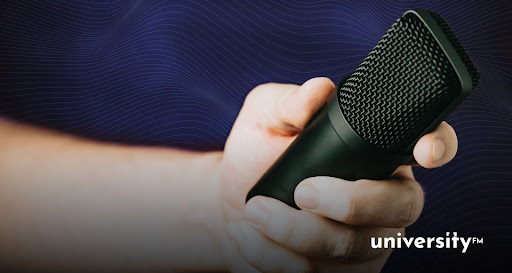 So you want to start a podcast. Congratulations! Podcasts are a fantastic way to share information and delve deeper into topics that you're interested in. And for professors and students alike, podcasts can be a great way to build community on campuses while also learning more about specific areas of study.
Podcast production may seem intimidating, but with the right skills and tools, you can produce a quality podcast that successfully delivers content of interest to your chosen audience. Doing some planning prior to launching a podcast will not only help ensure that your podcast does well at launch, but will also ensure continued quality production down the road.
In this article, we've listed a few steps that you can take to produce a podcast that will make your campus proud.
Content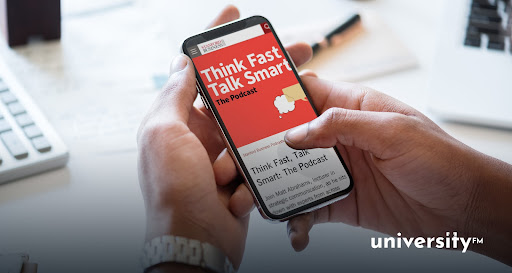 Higher education podcasts have no shortage of potential content ideas. Podcasts can be centered around a professor or student's subject of study or research interests. The podcast can mirror some of the topics explored by an academic department.
For example, the Think Fast Talk Smart podcast explores various communication topics. Matt Abrahams, lecturer in strategic communication at the Stanford Graduate School of Business, specializes in communication. Having a host or guests that have expertise in the podcast's subject can boost the credibility of the podcast and thereby the listener base.
Audience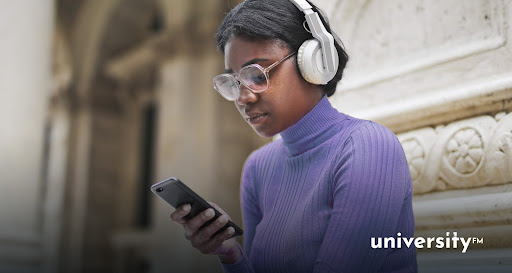 Higher education podcasters in particular should think critically about how to best present information to audiences. While academic audiences may already have a baseline level of knowledge about some of the commonly used jargon and theories within a field of study, other audiences might not. If your podcast is intended to reach an audience beyond those already in your field, then you may consider presenting content differently.
Script
As a general guideline, it's always a good idea to have a podcast script. A script includes elements such as an intro section, messages from sponsors and an outro.
In the intro section, the host introduces the podcast, introduces themselves as host and also introduces the specific topic being explored in that episode. An outro section summarizes the topic covered and may also include a call to action, inviting the listener to check out other resources on the topic discussed or subscribe to the podcast to learn more.
Equipment and recording
While gathering equipment for your first episode, consider how many people will be featured in a single episode and the location of the episode recording. If you decide to do a monologue-style podcast, for instance, then you might try using your headphones and a USB mic that can be plugged into your laptop. If you're recording with another person, platforms like Riverside.fm conveniently allow you to connect with people from a distance.
The type of equipment you use to record your podcast at the beginning of your podcast journey may change later on. You may find that later, for instance, your recording requires an audio interface. These recording devices have input jacks for microphones, as well as outputs for headphones. With interfaces, you can on an SD card, your computer, or even other platforms like Zoom.
Editing
The way that a podcast is edited post recording can make or break whether or not an audience continues to listen to a show. With that in mind, you'll want to focus on a couple of key factors: length of the episode and conversational flow.
The length of a podcast episode can be dependent on the content that is being covered. However, an episode that is too long may risk losing listeners at the halfway point, and an episode that is too short can leave listeners feeling unsatisfied.
Achieving a nice flow of dialogue between the intro, podcast episode itself and outro is a vital aspect of keeping listeners emerged in your content. To make sure that you don't break the immersive listening experience, edit out the content that strays away from the episode's original topic.
Episode release schedule
Professors, students and their respective departments hold busy schedules, especially during the school year. It might be helpful to coordinate the release of episodes with your academic department or other departments on campus. Consider partnering with groups and offices on campus prior to the release of your first episode, as they might be able to help spread the word about your new show.
When creating an episode release schedule, always keep consistency in mind. Choose a day to release on weekly, biweekly or monthly, then try to stick to that schedule. Keeping a consistent release schedule helps ensure that you keep creating content in the initial stages of the show. It also helps build your audience's anticipation for episodes and result in better audience engagement.